The Best Public Speaking Training Available
A transforming experience, public speaking training with YourPublicSpeaker gives people the knowledge and self-assurance they need to flourish in public speaking.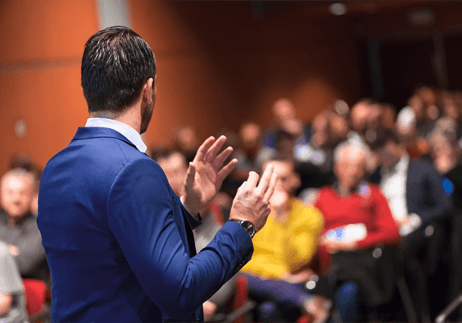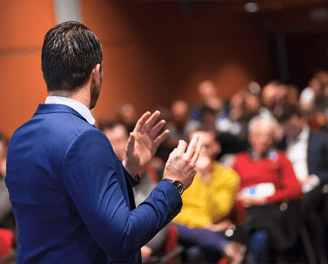 We've taught professional communication and public speaking at the University level. Allow us to train your team for public speaking.
We train your staff to speak at corporate outings, internal meetings, trade show presentations, and annual meetings.
Our public speaker training gets results and can improve participant presentations. Whether overcoming the fear of public speaking or polishing up a presentation, our public speaker has the experience to get you and your team results that lead to success.
Each training is tailored to meet individual needs, whether improving vocal projection, strengthening body language, or crafting persuading speeches. Participants gain from hands-on activities and simulations that mimic real-world speaking situations and assist them in overcoming stage fright and anxiety.
Public Speaking Training Made Easy
Speakers will learn to connect honestly with their audience and acquire confidence via helpful criticism and direction. The public speaker for hire at YourPublicSpeaker strongly emphasizes using storytelling strategies to develop compelling narratives that connect with audiences.
They also perfect visual aids and presentation slides to successfully support the speaker's content. Virtual speaking abilities, which acknowledge the move to online venues, are the public speaking training distinguishing aspects. Participants learn how to interact with virtual audiences, handle technological issues, and maintain a captivating screen presence.
Contact Us To Get Public Speakng Training
YourPublicSpeaker's public speaking trainer equips participants to become captivating, assured, and persuasive communicators.
Public speaking training and guidance from an experienced public speaker trainer play a vital role in honing these skills, helping speakers refine their delivery, manage nerves, and handle unexpected situations with ease.
The abilities you gain from our public speaking trainer are vital for your personal and professional development, whether you want to use them for public speaking, corporate presentations, or leadership responsibilities.