Get to Know Our Public Speaker
Articulate elocution, kindness and charisma are a few features of David's persona.
David has taught Public Speaking and served as adjunct faculty when he was a Lecturer of Communication & Journalism at Suffolk University from 2010–2014. During his collegiate career David competed in Lincoln-Douglas Debates and Individual Events as a Member of National Forensics Association. David appeals to his audience by applying to the principles of Ethos, Pathos and Logos. His capabilities include Introducing, Informing and Persuading through Rhetorical Enthymemes and Syllogistic Logic.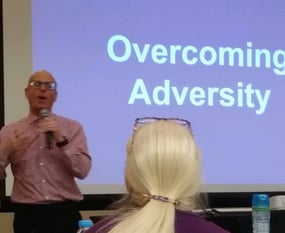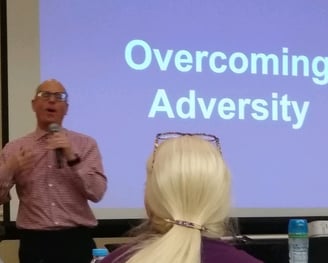 David is one of our nation's preeminent experts on disability. Legally blind from an early age, David's experience includes impressive careers in both the public and private sectors.
David has served as a Presidential appointee, Gubernatorial appointee, elected official and business professional and is known for his innovative ideas. His public service includes being a catalyst for groundbreaking and transformative projects that led to increased independence and self-determination for people with disabilities. His private sector experience involves corporate turnarounds and creative campaigns. David's personal story is an American original that is unique and truly inspirational.
Adversity 101: A Pragmatic Guide to Staying Alive

Flourishing From Seed to Flower

Start with Courage

Why Work Matters

Easy for "Them" to Say

Just Hang Around

The Path to Prosperity
Disability Employment Policy

Leadership in the Cancel Culture Era

Here There and Everywhere:

The Pervasive Evolution of Government

Why Work Matters

Public Speaking

Conquering Your Fears (Don't Pass Out!)

An Ode to Epictetus
Professional Presentation
Persuasion "Coffee is for Closers"

Easy As 1-2-3 Method

How to Emcee an Event

After Dinner Speaking

Conference Presentations

Corporate Events
Moderation Should Not be passé.

The Tale of Landslide Lisa and Why Every Vote Matters

libertas maxime (freedom more than anything else)

On Leadership
The Americans with Disabilities Act

A History of Disability in the USA

Why Work Matters

Current Trends in Disability Employment Policy

Various States of Ability: Disability as a Spectrum
Customized Topics and Group Actvities
The Candy Tower

Mr. Telephone Man

Mirror-Mirror on the Selfie Wall

"Let's Go Right F*#king Now!"
Our Mission
We want to provide a speaker to make your event a success and empower you to speak and present in an effective manner. Our goal is to match our clients with the perfect speaker and topic that fit their tastes, needs, and budgets.
Our Vision
We believe in free speech and the marketplace of ideas. Our view is that people want to live in a world where views can be shared and issues can be discussed by employing civility and empathy.
That is why we place particular emphasis on our preparation and professionalism. Our entire focus is meeting your needs and providing the best presentation possible. We do not foist an agenda on you, we work with you and your team to provide a speech or presentation that is superb.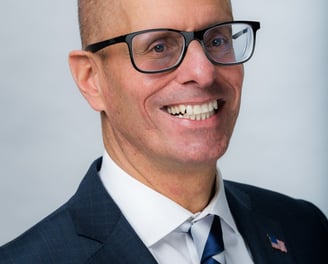 Our strength lies in our individuality. Set up by David D'Arcangelo, the team strives to bring in the best talent for your next event.
Public Speaking Experience
List of Speaking Engagements and Participations for David D'Arcangelo
Keynote Speaker
Flourishing from Seed to Flower
Professional Association of Resume Writers and Career Coaches THRIVE Conference, Orlando FL April 24, 2023
Guest Speaker
Disability Policy Relative to People With Disabilities and the Economy
Northwestern University Master of Science in Social and Economic Policy Program, Evanston IL September 30, 2022
Panelist
State-of-the-Science on Disability Statistics Conference
Washington D.C. October 7, 2022
Featured Speaker
The Quest for Independence & Inclusion: Why Employment Matters for People with Disabilities
Lesley University Thought Leadership Series, Thursday, October 21, 2021
Presenter and Panelist
Adapting to a New Virtual World
U.S. Department of Defense 2021 Computer/Electronic Accommodations Program
Virtual Joint Disability and Reasonable Accommodations Summit
Member, Co-Chair & Panelist
"Work Matters" National Task Force on Workforce Development for People with Disabilities
Council on State Governments (CSG)
Member
National Task Force on the Future of the Workforce, Automation and Technology Subcommittee and Report The Future of the Workforce APPROACHES TO INCREASING ACCESS & INCLUSION Options for State Policymakers Across Three Emerging Issues
Presenter
APPROACHES TO INCREASING ACCESS & INCLUSION Options for State Policymakers Across Three Emerging Issues
Council on State Governments (CSG) National Conference Puerto Rico, December 4-5, 2019
Commencement Speaker
Lesley University, Threshold Program, May 2018
Webinar Moderator & Presenter
"Workforce Development for People with Disabilities: Transportation, Technology & Other Employment Supports"
Council on State Governments, November 22, 2016
Panelist on Disability Employment Policy
"Improving Opportunity for People with Disabilities: Understanding Trends and Effective Return-to-Work Strategies."
American Enterprise Institute, Washington D.C. Washington, DC., February 7, 2017
Member/Panelist,
SourceAmerica's Advisory Committee regarding the "Future of Work and the Disability Community"
Washington DC., March 5, 2019.
Recognized by the Council of State Governments as one of the 30 Leaders Impacting Disability Policy in their Capitol Ideas Magazine celebrating 30 years of the Americans with Disabilities Act.
https://issuu.com/csg.publications/docs/ci_issue_3_2020_issuu__1_/42
Panelist,
National Association of State Personnel Executives (NASPE) Annual Meeting, Boston, October 4, 2021
Panelist,
2021 National Governors Association (NGA) Spring Workforce Symposium – Disability Employment Session, May 25th 2021.
Panelist,
MassChallenge Health Equity Meeting: Meeting the Needs of Diverse Populations – April 22, 2021.
Guest,
"Managers Minute" podcast produced by the VRTAC-Quality Management at The George Washington University Center for Rehabilitation Counseling Research and Education. The podcast was recorded on Tuesday, October 19th.
Contributor,
Center for Advancing Policy on Employment for Youth (CAPE-Youth) Conference in San Diego, December 13-15 2021 and Denver, June 2022
Keynote Speaker,
9th Annual Massachusetts Commission Against Discrimination Fair Housing and Civil Rights Conference, Springfield, MA, April 30, 2015
Keynote Speaker,
National Braille Challenge
The Braille Institute, July 31, 2020
Presenter
Building Inclusive Talent Pipelines for People with Disabilities
National Governors Association, Madison, WI, May 9, 2018
Presenter,
Creating a Municipal ADA Improvement Grant Program
2018 National ADA Symposium, Pittsburgh, PA, June18, 2018
Member
National Task Force on the Future of the Workforce Development for People with Disabilities, Lexington, KY, Cambridge, MA, and San Juan PR, 2019
Presenter,
VR 100 Series Webinar on Innovative Strategies from VR During the COVID-19 Pandemic
Moderator,
All-Star Panel - 30 Years of ADA: Webinar Series Reflects on Our Progress and Charts Out a Future for Disability Inclusion, July 30, 2020
Speaker and Panelist
Boston Alliance for Economic Inclusion (BAEI) Spring/Summer Forum June 21, 2018
Panelist
New England Newspaper & Press Association (NENPA) INNOVATE Newspaper Convention, Boston, MA February 24, 2018
Speaker and Panelist
AAPI (Asian Americans and Pacific Islanders) Civil Rights Forum October 27, 2016
Speaker and Presenter
Press Announcement from Governor Baker
Massachusetts Disability Parking Bill Signing Press Conference, November 27, 2017
Speaker and Presenter,
Pediatric Low-Vision Symposium
Hasbro Children Hospital, Providence Rhode Island
Panelist,
Being a Member of a High Impact Board
Harvard Business School Association of Boston,
THE NONPROFIT BOARD SUMMIT, March 25, 2019, The Federal Reserve Building Boston,
Speaker and presenter
What Works? How Federal Contractors Are Implementing Section 503
Office of Federal Contractor Compliance programs
Speaker
State House Press Conference Announcement
Disability-Owned Business Enterprise (DOBE)
Creator, Host and Presenter,
Disability Mentoring Week
In recognition of National Disability Employment Awareness Month (NDEAM), the Massachusetts Office on Disability (MOD) and the Commonwealth Human Resources Division (HRD) hosted the first "Disability Mentoring Week (DMW)". Massachusetts state agencies hosted 30 mentees who attended workshops on MassCareers, interviewing, and resumes.
Producer, Speaker, Moderator, Host
MOD Disability Summit, Boston & Somerville, MA, September 2015, 2016, 2017, 2018
Created and Produced what has become one of Massachusetts most significant events for the disability community.
Emcee and Moderator
Breaking Barriers Juried Art Competition, Boston, MA, November 14, 2017
Featured Guest
Feeling Through Live:
Presenter
Baystate Council for the Blind Annual Meeting
Presenter
Carrol Center for the Blind Carrol Awards presentation
Featured Speaker,
Lesley University Thought Leadership Series, Inaugural speaker Lesley's 2021-22 Thought Leadership Series
Member
National Council on Disability Medicaid Oral health report
Keynote Speaker
Focus on Vision Conference
Speaker
Beyond Blindness
Speaker
Raise the Bar HIRE Conference, April 13, 2020, 12:00 p.m. to 1 p.m.,
Webinar Featured Guest
Talking Information Center (TIC)
Lead Speaker & presenter
MIAA MIAA/MSAA Diversity, Equity & Inclusion Symposium